With the explosion of e-commerce, companies are facing the challenge of finding new ways to expedite delivery for their customers while keeping shipping costs down. The last mile segment is a critically important part of the supply chain that benefits from scale, technology, and experience. Last mile logistics is the final step of the delivery process from a distribution center or facility to the final delivery destination – often a residence. The actual delivery distance ranges from a few blocks to 100 miles.
While the final mile segment is the most crucial of the supply chain, it can also be the most expensive – in some cases making up more than half of a shipment's total cost. Scheduling times for deliveries can be difficult and costly. If a delivery requiring a signature is missed because the recipient is not home, it can result in extra trips, more driver time, and additional administrative tasks – thus more expense for providers. As e-commerce continues to flourish, companies need effective economical solutions for their last mile needs.
Not only is final mile logistics costly, an unsatisfactory home delivery experience can have a negative impact for your customers. Many times, the final mile delivery is the first personal contact between the consumer and the company, and there are several factors that can negatively affect that experience. Is the driver late? Does the driver scuff the floor or walls when he or she enters the home? Is the package damaged? Any of these scenarios can cause consumers to have a negative perception of your company.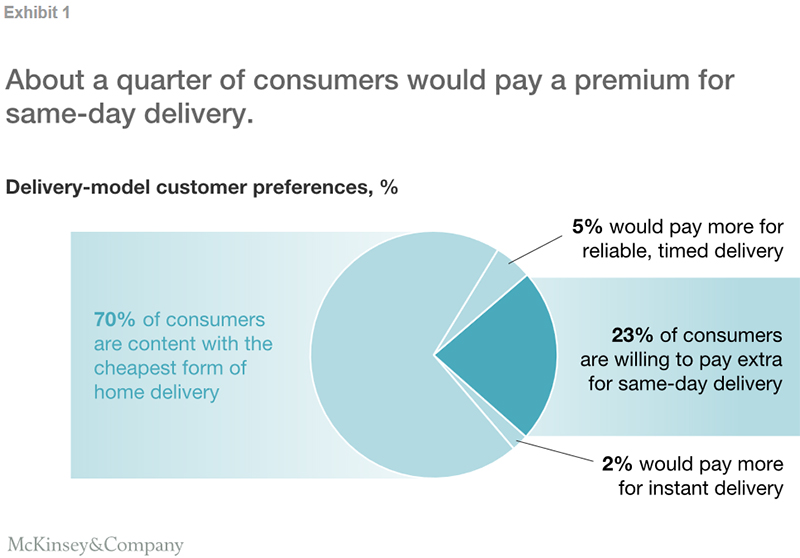 According to McKinsey and Company, shippers of all sizes have identified last mile logistics as the cornerstone to driving growth and profitability. In fact, a survey by McKinsey on more than 4,700 respondents in China, Germany, and the U.S. shows that 25 percent of consumers are willing to pay significant premiums for same-day delivery. The McKinsey research also reports that same-day and instant delivery will likely reach a combined share of 20 to 25 percent of the market by 2025. Now, more than ever, it's vital for your company to partner with a last mile logistics provider to create a customized delivery solution for your last mile delivery needs.
A last mile logistics strategy can be a key differentiator for your business. Contact Blue Streak Couriers today to learn how we can create a customized delivery solution to meet all your customers' logistics needs.
Photo created by freepik.